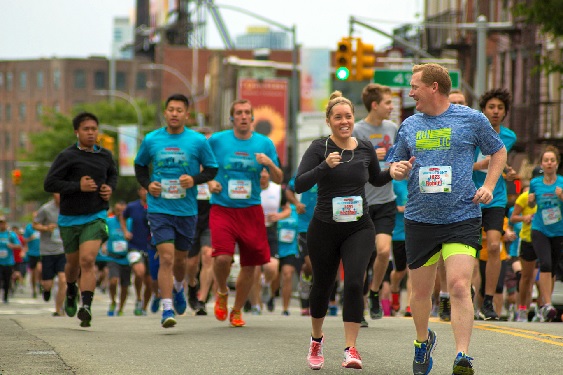 May 18, 2018 By Staff Report
Nearly 1,000 people have signed up to participate in this year's LIC Post Waterfront 5K, with the event expected to be a sellout.
The charity run/walk, in its third year, is scheduled to take place on Saturday, June 2 at 8:30 a.m. and the number of participants is being capped at 1,300.
"This event has generated a great deal of excitement since it was established 3 years ago," said Christian Murray, publisher of the LIC Post, who is co-organizing the 5K with the Hunters Point Parks Conservancy and two local running groups. "People have been quick to sign up–so we are telling people to register now before it's too late."
To register, visitors can click here.
The previous two events sold out days before the run. The number of runners/walkers in 2016 and 2017 was capped at 1,200.
As in previous years, the 5K will start next to Hunters Point South Park. Participants will then go through the commercial district on Vernon Boulevard and all the way over to Queensbridge Park (see map for route). The course will then loop back around and runners/walkers will get to go through Gantry Plaza State Park on their way to the finish line.
After the 5K, children's dashes will take place on Center Boulevard. This year, about 150 kids have already signed up, reflecting the popularity of this component of the event.
The event will cost $25 for adults and $15 for children. Participants will receive a race T-shirt and swag-bag items. This year, groups can run as teams.
The 5K is a charitable event, with all of the proceeds going to the Hunters Point Parks Conservancy (HPPC), a nonprofit group that was formed 20 years ago (as Friends of Gantry State Park) with a mission to enrich the quality of life in Hunters Point by preserving and enhancing its parks, green spaces and waterfront in partnership with the community.
Funds raised from the run will be used to support events and programming in the parks and for upkeep and maintenance in both Hunters Point South Park and Gantry Plaza State Park throughout the year.
Rob Basch, President of HPPC, said some of the funds will be used to support the Summer Kids 2018 program in partnership with Gantry Parent Association which provides free events at LIC Landing for some of the younger members of the community.
"Given the expected turnout, this year's event is going to be even more successful than last year's," Basch said. "It is going to be an amazing day for all and we would like to thank our wonderful sponsors, parks employees and the 108 Precinct in advance."
People who are unable to run/walk on race day but still wish to donate can do so by visiting the HPPC site here.
Ann Sansaricq, one of the leaders of the Woodside-Sunnyside Runners and co-organizer of the 5K, said participants will enjoy the race course.
"Long Island City is one of the best places in the world to run," Sansaricq said. "It's hard to beat a course that takes place on the waterfront providing views of Manhattan."
There will be medals presented to the fastest three men and women in various age categories. There will also be awards for children.
The day will include a post-race party with live music, food and drinks available at LIC Landing.
"We couldn't put on this event year after year without our new and returning sponsors, as well as the help of both city and state parks and the 108th precinct," said Christian Amez, President of Marketing & Sales for the LIC Post and its sister publications.
New and returning sponsors for this year's 5K are:
Diamond Sponsors
TF Cornerstone, Douglas Elliman, LIC Dental Associates
Platinum Sponsors:
Plaxall, Compass, Chelsea Pediatric Dentistry LIC, Metro Orthodontics, Foodcellar Markets, The Skillman
Gold Sponsors: NYC Ferry, Related Companies, Ravenswood Generating Station, Crossfit Gantry, Rockrose, the Smith Team at Stribling & Associates, LIC Landing by Coffeed.
Silver Sponsors: Modern Spaces, Related Companies, Manducatis Rustica, M&T Bank, New City Church, Vernon 123, QNS 44, Councilman Jimmy Van Bramer
Bronze Sponsors: Lululemon, Mt. Sinai Queens, SHI, Woodbines, Jackson's Bar, UPS Store, Mr. Lumberjack, Congressman Joseph Crowley, Assemblywoman Catherine Nolan and State Senator Mike Gianaris
No comments yet